We are Stockiest, Supplier of Perforated Pallets, Nestable Pallets, Slotted Crate Partitions and our setup is situated in Pune, Maharashtra, India.
PALLET 121014 L Blue / Black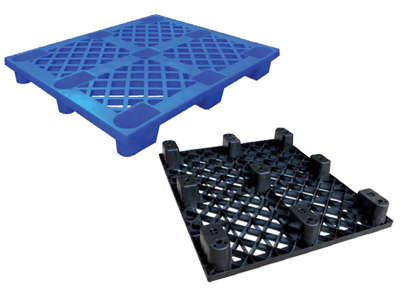 PALLET 121014 L Blue / Black
Product Description :
Perforated & Nestable Pallet Specially Designed for Exports


DIMENSION
1200 x 1000 x 140 mm
STATIC LOAD
1500 kgs
DYNAMIC LOAD
600 kgs
RACKING LOAD
N.A.
LEGS
9 Leg
MATERIAL
HDPE
4 WAY
2 WAY
NESTABLE
METAL TUBE
N.A.
Note : Static load & Dynamic load is being Calculated on Coverage of Entire Pallet Area.
---
PALLET 121016 HW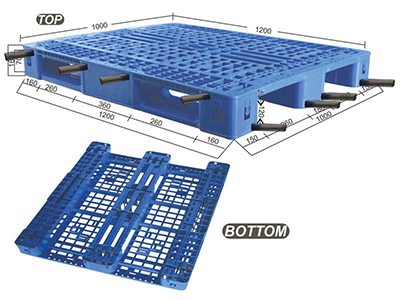 PALLET 121016 HW
Product Description :
ABBR. USED FOR PALLETS
HW - HEAVY WEIGHT


| | |
| --- | --- |
| DIMENSION | 1200 x 1000 x 160 mm |
| STATIC LOAD | 6000 kgs |
| DYNAMIC LOAD | 1200-1400 kgs |
| RACKING LOAD | 1000 kgs |
| MATERIAL | HDPE |
| STEEL REINFORCEMENT | Available on Demand |
---
PALLET 121016 MW
PALLET 121016 MW
Product Description :
ABBR. USED FOR PALLETS
MW - MEDIUM WEIGHTT


| | |
| --- | --- |
| DIMENSION | 1200 x 1000 x 160 mm |
| STATIC LOAD | 5000 kgs |
| DYNAMIC LOAD | 1000-1200 kgs |
| RACKING LOAD | 800 kgs |
| MATERIAL | HDPE |
| STEEL REINFORCEMENT | Available on Demand |
---
PALLET 121016 MW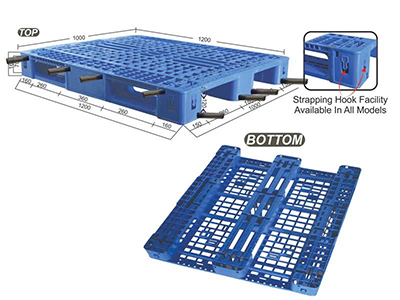 Slotted Crate Partitions
Product Description :
ABBR. USED FOR PALLETS
LW - LIGHT WEIGHT


| | |
| --- | --- |
| DIMENSION | 1200 x 1000 x 160 mm |
| STATIC LOAD | 4000 kgs |
| DYNAMIC LOAD | 1000-1200 kgs |
| RACKING LOAD | 700 kgs |
| MATERIAL | HDPE |
| STEEL REINFORCEMENT | Available on Demand |
---
PALLET 121016 MW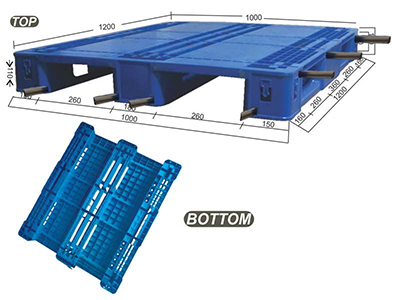 Slotted Crate Partitions
Product Description :
ABBR. USED FOR PALLETS
FT - FLAT TOP


| | |
| --- | --- |
| DIMENSION | 1200 x 1000 x 150 mm |
| STATIC LOAD | 4000 kgs |
| DYNAMIC LOAD | 1000 kgs |
| RACKING LOAD | N.A. |
| MATERIAL | HDPE |
| STEEL REINFORCEMENT | Available on Demand |