We are Dealer, Supplier, Stockiest of Video Zoom Inspection Magnifiers L104, Video Screen Magnifier, Video Magnifiers, Desktop Video Magnifier, Electronic Magnifiers and Magnifying Systems and our setup is situated in Pune, Maharashtra, India.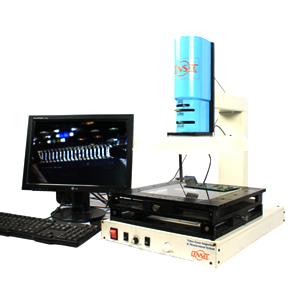 Product Description :
The High definition camera with corresponding monitor provides the optimal environment for inspection of your boards. It is capable of meeting all your current needs as also future needs, if the boards become more densely populated, with more miniature circuits and components. It also provides real time video without any blurring - this can greatly enhance inspection efficiency.
The high performance 10X zoom lens provides a sharp, high contrast image that addresses the need for a large field and fine resolution.
This is a stand-alone system. This system does not need a PC. System includes its own display monitor. On camera control saves the current image to 4 GB SD card inserted in camera slot. This image can be transferred to your PC for further processing and measurement.
X-Y Stage also offers convenient method of scanning the boards. The system includes a large stage with a travel of 150mmx150mm. We can supply bigger stages on request.
A Laser Pointer makes it easier to know exactly which part of a larger object is being seen on the screen. The system includes an adjustable laser pointer.
Top illumination is by a large CFL with intensity control.
350 Angular view attachment with 3600 panning
Optional Accessories :
The Angle view attachment (AVA) is an accessory that shows oblique view of ICs and solders joint that helps locating and understanding defects. Switching between Angle and Normal views is very simple and can be done as frequently as required.
Boards invariably have components on both sides, which makes placing these on flat glass top undesirable. A PCB holding system flexible enough to handle different sized boards is desirable.
A Backlight can be included in supply - this is useful if bare PCBs need to be checked for defects.
System Technical Specifications :
Camera : HD camera
Optics : Large field parfocal 10X Zoom Lens
Display : 475mm Horizontal (22 inch) HDMI Monitor
Magnification : 4.8X to 48X (approx)
Structure : Robust Steel and Aluminium Structure
Stage : X-Y Stage 150 X 150 mm travel with lock.
Illumination : 1) 32 watt CFL top illumination with intensity control. 2) Bottom Illumination of 75mm square, with intensity Control (This is optional).
Working distance : 140mm
Power Input : 230V, 50Hz single phase, AC supply only.