We are Supplier, Dealer of SMD Rework Station and our setup is situated in Pune, Maharashtra, India.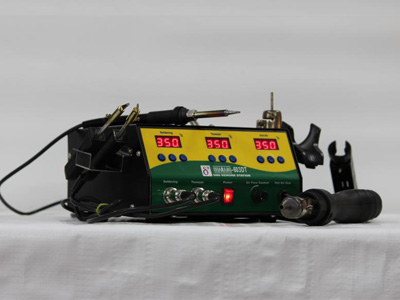 Specification
Input 230Vac +/-10 %
Soldering Iron 24V AC/60W
Hot Air Gun Max Power Rating 250W
Air Blower 18 VDc Brush Less Fan
Air Flow 24 LPM
Tip To Ground Resistance Under 2 Ohms
Tip To Ground Potential Under 2mv
Temperature Range 180-4800C For Soldering
Temperature Range 200-4500C For Hot Air
Station Weight Approx 4.0 Kg
System Includes: Control Unit, Soldering Iron, Hot Air Gun, Single Hole Nozzles 2 Nos, Pick Up Tool.
Features
Micro Processor Based Pid Control Digital SMD Rework Station
Digital Display For Temperature Reading
Japanese Ceramic Heater With Quick Heat Recovery
Wide Range Of Inter Changeable Soldering Bits & Nozzles
Long Life Soldering Iron Bit With Oxygen Free Copper & 300 Micron Iron Plating Covered With Nickel & Chrome
Micro Control System, Digital Display, Easy To Work With
Pulses Heating Method, Protect Heating Element, Hot Air Blower From Over Heating, Thus Prolongs The Machine's Service Life.
Automatic Cool Off System, Protect The Heater Form Overheating.
Sleek & Light Weight Soldering Iron & Hot Air Handle.